I feel that we as people are just as guilty of not being willing to see the signs for what they really are just like the Israelites. This is a great example of which portrays how God really loves us. He is the same back then, the same today and the same for days to come. You know how people are and though we try our best to be consistent, we always fall short. I know I fall short in the way I love my wife and kids. Rest assure that is never my intent, but being a man of God. I find myself constantly trying to better myself of which appoints me the ability to see how I can improve oneself as a husband, father, employee, boss, friend, son, mentor, role model and so much more.
Number 14:11-12
11 The LORD said to Moses, "How long will these people treat me with contempt? How long will they refuse to believe in me, in spite of all the signs I have performed among them? 12 I will strike them down with a plague and destroy them, but I will make you into a nation greater and stronger than they."
Allowing God
Mandie and I allowed God to use us in a way that we are not entirely sure about. We have faith and believe with all our heart that God is and will use us to bless others as we travel the United States. Jeremiah 29:11: For I know the plans I have for you," declares the LORD, "plans to prosper you and not to harm you, plans to give you hope and a future.
This is a very hard thing to do! What makes it so hard? The thing is that you have to give up everything or at the very least be willingly to do so. If you are so caught up with the things that God has blessed you with that you aren't willing to part ways with it all. Then my friend, you are not ready for what God has planned for you. If you truly believe then you would be willingly to give it all up.
What about my bills, my children, friends and what people will think? If it is a God decision then you need not worry; all parties involved to include your family and friends will all support you and may even be a part of this process. If you try to fully understand what God's plans are for you then you will never follow through with any God lead plans. Access and do your part and place the rest at the altar of God (God's feet).
The scripture below is when God instructed Abraham to sacrifice his only son and Abraham obeys God by going through the offering process. The scripture picks up right as Abraham is about to sacrifice his only son.
Genesis 22:12-18
12 "Do not lay a hand on the boy," he said. "Do not do anything to him. Now I know that you fear God, because you have not withheld from me your son, your only son."
13 Abraham looked up and there in a thicket he saw a ram[a] caught by its horns. He went over and took the ram and sacrificed it as a burnt offering instead of his son. 14 So Abraham called that place The Lord Will Provide. And to this day it is said, "On the mountain of the Lord it will be provided."
15 The angel of the Lord called to Abraham from heaven a second time 16 and said, "I swear by myself, declares the Lord, that because you have done this and have not withheld your son, your only son, 17 I will surely bless you and make your descendants as numerous as the stars in the sky and as the sand on the seashore. Your descendants will take possession of the cities of their enemies, 18 and through your offspring[b] all nations on earth will be blessed,[c] because you have obeyed me."
Abraham was willingly to sacrifice his only son. Now, there are things in your life that you will not give up and it is not as meaningful as someone's child. Do you see the disconnect there?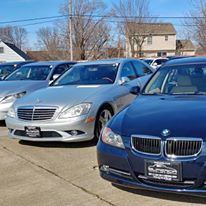 The things in life that you believe to be a God given thing are things that people are going to try and use deter you from God. This will result in you prolonging or even missing the blessings God has for you. The essentials of what I am saying is that you need to keep a "core circle" of people in your circle and be mindful of who you let in your circle. Example, the two blind men who received their sight when Jesus was walking to Jerusalem.
Stayed tuned for next blog post that talks about us getting on the road and the "The Two Blind Men"!